GET THE EXPOSURE YOU NEED
With over 70,000 people visiting the Maricopa County Fair each year, it's the perfect place to sell your products or promote your business.

OUTSIDE VENDORS & CONCESSIONS:  Since the fair is in the spring, we normally have excellent weather, making outside locations appealing to many vendors. 

INSIDE VENDORS: Inside spaces are in a climate-controlled building. Each space has pipe and drape. The building features entertainment, demonstrations, make and take activities, art displays, and the fair's competitive still exhibits (quilts, jams, jellies, horticulture, etc.) as well as the feature prize drawing.
Tables and chairs are available for rental onsite.

In addition to Arena Shows, great family entertainment, huge carnival, and strong livestock shows, the fair features several promotions to help drive traffic to the fair and buyers to your booth!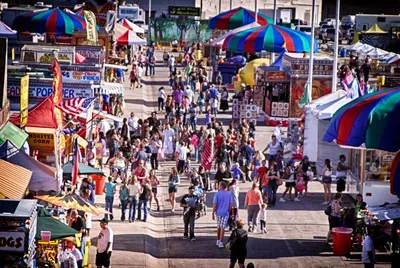 APPLICATION & REQUIREMENTS
ADDITIONAL INFORMATION
Become a commercial vendor or concessionaire. By submitting an application, you understand it is for consideration only; space is not guaranteed. Please read this information, in addition to the Vendor Handbook, before entering the application process. Applications must be submitted online.  Visit the links below to submit an application. 
DO NOT submit payment with your application(s). If accepted, you will receive notification and a contract, at which time you will also send payment in full. Your space is not confirmed until all documents and payments have been received.
All documents must be received by the specified dues dates to attend this event.
How to pick the right application
We have several applications depending on your services. Read the following to pick which application is best for you.
Commercial:  Selling items that are not food or beverages items made on-site. This application is for for-profit businesses/organizations, non-profit organizations, and political/campaign outreach.

(Commercial Vendor Rates

)

Food: Any food or beverage item(s) made on-site.

(Food Vendor Rates

)

Food Single Item: Selling a single food item (for example, cotton candy only or lemonade only). You may sell approved beverages.

(Single Food Vendor Rates

)
Vendors shall be covered by no less than $1 Million per occurrence liability policy. 
(Coverage is available through the Fair's carrier and is made available through the Fair Office, if needed.) The insurance sheet should name the Maricopa County Fair, Inc. as additional insured. 
It must appear on the certificate as stated. 
"Maricopa County Fair Association Inc, Fair Executives, their directors, officers, employees,
agents and representatives, as additionally Insured, 1826 W. McDowell Road, Phoenix, AZ. 85007."
ONLINE APPLICATIONS AND HANDBOOK
HAVE QUESTIONS? DROP US A LINE!
HAVE QUESTIONS ABOUT BECOMING A VENOR?
MARICOPA COUNTY FAIR
1826 W McDowell Rd, Phoenix, AZ 85007
OFFICE HOURS

Monday

9:00 AM - 4:00 PM

Tuesday

9:00 AM - 4:00 PM

Wednesday

9:00 AM - 4:00 PM

Thursday

9:00 AM - 4:00 PM

Friday

Closed

Saturday

Closed

Sunday

Closed